Remote is the future and it also means purchasing negotiations
And suddenly, everything went remote! This is one of the takeaways of corona that will stay with us for a long time to come. As early as 2020, 63% of companies surveyed in the Gemini Research Institute study The Future of Work: From Remote to Hybrid said that employee productivity had increased in the third quarter of 2020. This was due to reduced commuting times, flexible working hours, and the introduction of effective virtual teamwork tools. According to NordLayer's latest "Global Remote Work Index," Germany ranks first worldwide when it comes to the best countries for working remotely. Many magazines and trade journals predict that the home office boom will continue. In this article, we'll look at what this means for purchasing.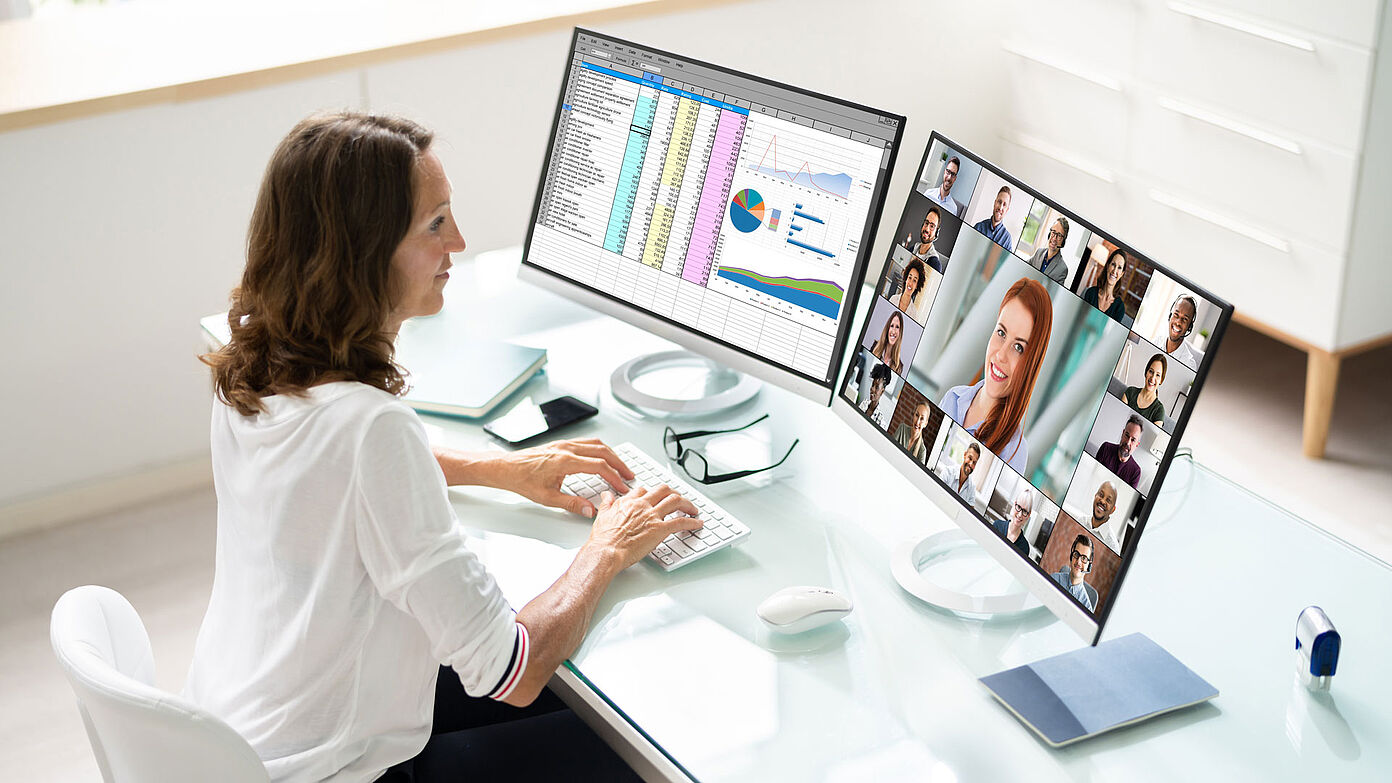 Shutterstock.com | Andrey_Popov
The advantages of working remotely or from home are obvious. This saves travel time and money while protecting the environment. It also means that we are no longer dependent on external influences, for example, when a train is canceled or airport staff go on strike. For buyers, "remote" means they also conduct negotiations online along with several participants present.
In the meantime, we have learned a lot. Participants in shorts, intrusive pets, or "interesting" video backgrounds — of which we had a lot in the beginning — have become a thing of the past. Nevertheless, there is still a lot of room for improvement in virtual teamwork. Today, I would like to share some tips about purchasing remotely with you. In case you are particularly interested in this topic, then you will find many additional useful tips along with many other current purchasing issues in my new bookDer Einkauf im Wandel [The Changing Face of Purchasing].
Tip No. 1: Have your facts, figures, and data ready
We all know how irritating it is for both negotiating partners and ourselves when we spend time looking for important documents or specific numbers. A simple, yet effective recommendation is to always have everything at hand. So, before you go into a negotiation, make sure all the important data is available, for example on additional screens or, if necessary, at least in documents that can be opened with a click. In addition to the necessary facts and figures, it is also useful to have the negotiation paperwork ready on the screen. This way, buyers can always get a good understanding of what the goals are during the negotiation.
Tip No. 2: Create a sense of reassurance
Some people find it difficult not to sit in the familiar meeting room that provides a sense of reassurance. Even though we now use technology routinely, colleagues tell me that the digital stress has increased enormously. For example, they will say:
"We're facing this big annual negotiation and we're wondering whether the technology will actually work."

"Just when we're talking to this important partner, my pulse goes up and we're suddenly sitting there in front of three screens like we're in some kind of control center. Let's not share the wrong screen…"
In online negotiations, taking the time to prepare well provides a sense of confidence. There may even be a co-worker with whom you can briefly "practice" beforehand. Constructive criticism such as "the volume of your voice could be better" or "point the camera a bit further up" will reassure you that everything will be just right on the big day. With a lot of uncertainty about technology, IT can be your best friend. When the IT staff knows that a major negotiation is coming up, then they can agree to stand by and step in immediately in case of a technical failure. As in face-to-face negotiations, it's also perfectly fine to briefly leave the screen in online meetings when the stress gets to be too much and you need to take a quick two-minute breather. Just turn off the camera and audio for a moment, collect yourself, take a deep breath, and then continue in an orderly fashion.
Tip No. 3: The common thread
Three screens, five participants, lots of questions - when negotiations are conducted online, things can get a bit confusing. This is why a common thread is needed. In this context, I would like to refer to Jutta Portner's negotiation process. To do this, feel free to write down the word NEGOTIATE with the letters under each other. This is a good common thread that helps you to focus when you're feeling stressed and in a rush.
N stands for "names and niceties." Even in digital negotiations, it's important to introduce yourself with your name and exchange a few niceties to loosen up.
E means "establish the ground rules." This is where the ground rules to guide everyone through the meeting are set.
G is for "get viewpoints exchanged," that is, share your viewpoints. This is when you're already into the first steps of the negotiation.
O stands for "observe and identify common ground." This is about finding things you have in common in the negotiation. And then we're at
T, which means "take note of differences." So do take the differences into account. These differences are also what will be negotiated at the end. Continue with
I means "initiate the negotiation".
A as in "agreement reached" is where you agree on items. Let's move on to the last two letters.
T stands for "tasks should be distributed," the tasks and next steps are distributed before
E or "ending, celebrating, and saying farewell." Conclude, wrap up, and say goodbye. Once the negotiation process has been successful, then this is the perfect time to celebrate together as a team.
A brief reminder at this point: If you've made a great bargain in purchasing, don't pop the corks on the champagne bottles until the supplier has left the meeting!
Tip No. 4: Mastering negotiation techniques
Even in times of crisis we need good tools, goal-oriented reasoning including extensive information and various ways of asking questions. If you can do this well and build a coherent line of reasoning, then little will stand in the way of your success. I like to use the "341625" negotiation reasoning method. If you would like to know now what is behind this number code, then please feel free to contact me. I look forward to talking with you about this on LinkedIn or in a personal meeting.
A bonus tip at the end
In summary, the success factors for remote negotiations are
Have your facts, figures, and data ready.
Get the technology in place and do a test run to feel confident.
The common thread in the negotiation process is clear.
The negotiation line of reasoning is coherent and well structured.
A successful negotiation calls for a celebration.
My extra bonus tip: Don't forget your sense of humor. All of us in purchasing are aware that negotiations are a serious matter that set the course for the future. But if something doesn't go quite so well, especially in the online world, don't be ashamed. On the contrary, it may be the perfect reason for a good laugh to relieve the tension, make you more personable, and to lighten the spirits.
English translation by Nelly Thomas